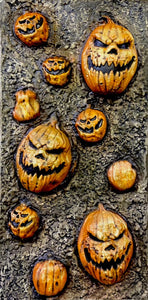 Nightscream Studios will No longer offer the pumpkin panels painted, only unpainted they will come to you black
We offer superior vacuform that is strong, durable and lightweight.

Great for indoor and outdoor usage! All panels are 4´x 8´ for easy fitting to existing walls or structures.
NSS will not cut out the panels, the eyes, nose, or mouths!